Am I About to Take the Bait?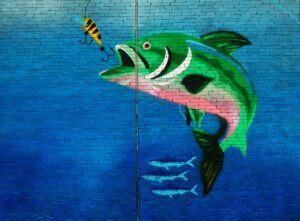 Imagine how effective a fisherman would be who, instead of using a fishing pole to land his catch, went out to the lake with a dinner plate, silverware, and tartar sauce. Rather than employing the latest lure to entice the fish; he stood on the boat telling stories to the residents of the river of how he would soon clean and debone them, he would explain the process of breading and frying them, he would speak of the side dishes that he had in mind for the meal; of which they would be the main course. This is a silly and ineffective strategy that would lead only to a hungry fisherman. For the fish to be caught, you must hide the deadly hook inside a bait that is not easily resisted. This is also one of satan's strategies for overtaking people as well, offering the bait while hiding the hook. Bitterness is never seen for the cancer that it is but rather as merely the reasonable response to some wrong committed against us. The hook of materialism is discreetly nestled within the expected joy that accompanies just one more purchase. The entrapment of gossip is safely concealed in the bait of sharing a concern about someone. Are you taking the bait?
Peter warns us to, "Be of sober spirit, be on the alert. Your adversary, the devil, prowls around like a roaring lion, seeking someone to devour." (1 Peter 5:8) Much like the temptation that the fish encounter as they go about their day and suddenly a delicious morsel appears, so we too face daily testing. How will I respond?
Satan is crafty and effective at hiding his hook and to avoid being ensnared I must first know what God has said in His Word. Unquestionably, most of the devil's work is done when the Christian neglects the systematic study of the Word of God. Second, I must see the bait for what it is. Job 20:12-14 warns, "Though evil is sweet in his mouth and he hides it under his tongue, 13 though he desires it and will not let it go, but holds it in his mouth, 14 yet his food in his stomach is changed to the venom of cobras within him." The fisherman comes to the water with a dinner invitation and being the guest of honor isn't what it's cracked up to be. I learn what God says about the bait as I study His Word, however, I can't just know the information and expect to be safe, I must believe and practice what God has said. and this brings us to the third step in avoiding being taken in by the bait; avoid the bait. I know that sounds very simple but, there is no wisdom in going near the door of the harlot nor are we positioning ourselves for victor when we 'dabble with sin.' I find that, more often than not, satan is very predictable in the bait that he uses with me; he knows what I am interested in and offers subtle seductions. The Apostle Paul offers a helpful command in Romans 12:9 "… Abhor what is evil; cling to what is good." This means, stay away from those things that so easily entangle.
God has promised victory and, "No temptation has overtaken you but such as is common to man; and God is faithful, who will not allow you to be tempted beyond what you are able, but with the temptation will provide the way of escape also, so that you will be able to endure it." (1 Corinthians 10:13)
This is how you avoid taking the bait, will you live out your faith victoriously in Christ today?
All Scripture is from the NASB